Upper and Lower Lid Blepharoplasty Surgery
Blepharoplasty (or eyelid surgery) is the procedure that improves the aged appearance of the eyelids. It may be performed on both the upper and lower eyelids to remove excess skin and protruding fat.
Upper lid blepharoplasty surgery will remove the excess fat and wrinkled, drooping skin of the upper eyelids that can make you look tired or sad. Fat and skin are removed through a well-hidden incision placed in the upper lid crease, which is a natural fold in the skin.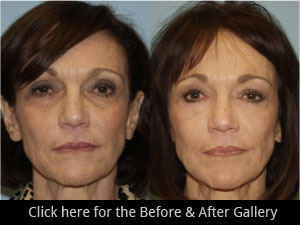 Lower lid blepharoplasty surgery will remove or reposition the excess fat ("bags" under your eyes) and tighten the skin to give you a more rested, youthful appearance. The incisions and approach are tailored to each individual patient based on which features need to be addressed. In many cases, the incision is placed on the inside of the eyelid, which is not visible at all. When you come in for your consultation with Dr. Sidle, he will review your surgical plan with you in detail.