Chin and Cheek Augmentation / Implants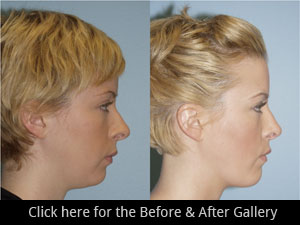 Chin and cheek injections, augmentation, or implants can be performed in Dr. Sidle's Chicago office at Northwestern Memorial Hospital. Dr. Sidle, a plastic surgeon who specializes in the face, approaches each patient with overall facial harmony in mind.  Enhancing the contours of the chin and cheek will provide a more sculpted appearance and a more balanced profile.
If you opt for injections, the results may last between six months and two years depending on the type of material used. This is often a good option for patients who are interested in augmentation but are not yet ready for a surgical procedure. It is also a good way to "test drive" the new look.
If the decision is made to pursue a facial implant, this is a brief outpatient procedure that provides a permanent, predictable result. When you have your consultation with Dr. Sidle, he will discuss both options, and you will decide together which approach is better for you.
Chicago Chin Augmentation
One area that can cause significant imbalance to the overall appearance of the face is the chin. A small or short chin makes the neck look less defined and creates the illusion of having a larger nose. Even small changes in the size of the chin can result in a very noticeable improvement in the overall balance of the face. Chin augmentation is performed through a small incision below the chin through which a soft, biocompatible implant is secured in front of the lower jaw. Some bruising and swelling is expected, but this typically resolves within 1 week. Results can be dramatic with this type of procedure.
Chicago Cheek Implants
Cheek implants to create full, high cheeks can have a similarly meaningful effect on your appearance, making your face look more sculpted and youthful. Cheek augmentation can eliminate the "sunken" appearance under the eyes and fill out a "hollowed" mid-facial area. These improvements can be made by using injectable fillers, the patient's own fat, or a permanent implant. Generally, healing is quite rapid, and there may be no external scars. Mild bruising and swelling often occurs but typically resolves within 1 week.
Chin and Cheek Augmentation FAQs