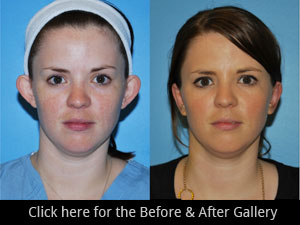 Overly protruding ears or "lop ears" can be a source of teasing and self-confidence problems for children and adults. Through a simple operation, called otoplasty (or ear pinning), the shape and position of the ear can be modified to create a normal appearance. Although otoplasty is commonly performed on children in the pre-school or early school-age years, the procedure can provide significant benefit to adults with similar problems.
How Dr. Sidle Performs Ear Pinning Surgery?
Dr. Sidle's incision for the procedure is hidden behind the ear. The shape of the cartilage is changed through cartilage reshaping and the placement of sutures. After surgery, a small dressing is maintained for a few days. Swelling, bruising, and discomfort are typically mild and short-lived.
Why Prefer Dr. Sidle For Ear Pinning Surgery?
Experience Matters. As a board certified Facial Plastic Surgeon at Northwestern with expertise in the face and neck, Dr. Sidle can provide you with an individualized plan to achieve your goals of a more youthful face. Call our office for a one-on-one consultation.
Otoplasty (Ear Pinning Surgery) FAQs