During the aging process, skin steadily loses its elasticity. This gradual loss of elasticity is combined with the immutable weight of gravity pulling downwards. Together, the lack of elasticity and the pull of gravity results in skin collecting on the upper and lower eyelids. Wrinkles and bulges are a couple of the primary pitfalls that come with excess skin on the lower eyelid.
Generally, when you think about poor eyesight, it's most commonly to do with retinas and astigmatisms, etc. However, sagging or drooping skin around your eyes that comes with aging can also adversely affect your vision. When there is too much skin gathered over the upper eyelids, the droopy skin may hang over the eyelashes and impede your eyesight.
Furthermore, your eyeballs have fat cushioning them from the skull. It can lead to the upper and lower eyelids bulging. As you age, a fat-carrying membrane weakens—thereby allowing fat to advance into the lids. It strongly resembles a hernia.
If you're experiencing drooping, sagging, or bulging skin in and around your eyelashes, you'll make an ideal candidate for eyelid surgery. Even if your eyelids are not impeding your eyesight, you may want to consider eyelid lift surgery if you want to achieve a more youthful appearance.
What Is Blepharoplasty?
Blepharoplasty (or eyelid surgery) is the procedure that improves the aged appearance of the eyelids. It may be performed on both the upper and lower eyelids to remove excess skin and protruding fat.
While surgery is often done to lift and remedy eyelids that impede vision, it's also performed for cosmetic enhancement. Eyelid lifts are often used in conjunction with cosmetic procedures in a similar realm—improving the outcome of face or brow lifts.
What Should You Know Before Undergoing A Blepharoplasty?
One idea that many potential surgery candidates have about the blepharoplasty process is that there's a need to go under anesthesia. In most cases, this surgery can be performed in an office procedure room under light sedation.
The blepharoplasty surgery may also be performed as an outpatient surgery in an operating room if additional cosmetic procedures are warranted. In this case, anesthesia may be required depending on the nature of the other cosmetic enhancements.
How Does The Surgeon Perform The Surgery?
After receiving your numbing and relaxing medicines, it's time for the nitty-gritty of the surgical eyelid lift.
Upper lid blepharoplasty surgery will remove the excess fat and wrinkled, drooping skin of the upper eyelids that can make you look tired or sad. Fat and skin are removed through a well-hidden incision placed in the upper lid crease, which is a natural fold in the skin.
Lower lid blepharoplasty will remove or reposition the excess fat (commonly referred to as "bags" under the eyes) and tighten the skin to give you a more youthful appearance. The incisions and approaches are tailored to each individual patient based on which features need to be addressed. In many cases, the incision is placed on the inside of the eyelid, which is not visible at all.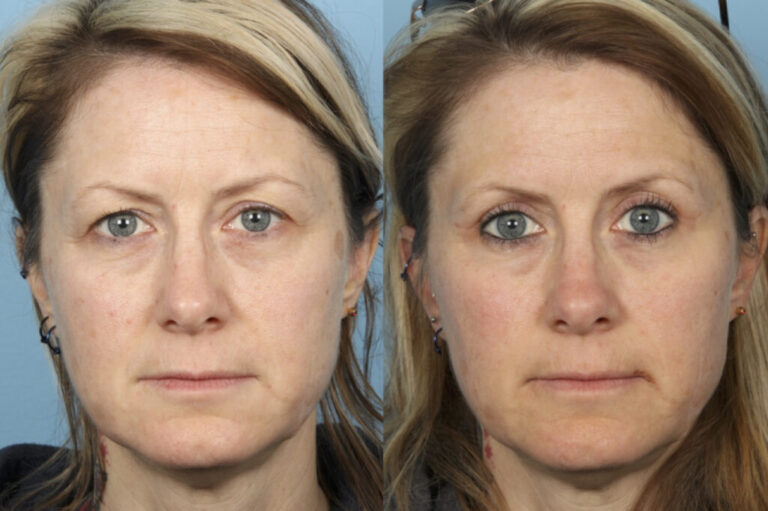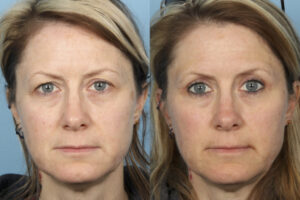 How A Surgical Eyelid Lift Will Positively Impact Your Appearance
Below is a breakdown of the positive differences you'll notice when comparing yourself before and after your eyelid lift.
Reduced Fine Lines
One benefit noticed by those who've undergone a blepharoplasty is removing a significant bulk of the lines surrounding the outer eye corners and lower eyelids. Lifting the upper and lower eyelids helps reduce the fine lines that give away your age.
Another way to rid yourself of more of these lines is through a chemical peel. This skin rejuvenation treatment is conducive to further smoothing of the creases around your eyes.
Removing The Sagging Skin Beneath Your Eyes
There's nothing worse than people telling you that you look tired even when you're well-rested. This 'tired' look is partially due to the excess skin and tissue below your eyes.
Lower eyelid lifts can eliminate that excess skin, thus ridding you of those baggy areas.
While it's not possible to remove dark circles from below the eye, they can be improved with an eyelift. Especially when the eyelid lift is combined with a peel or medical facial.
Seeing Things More Clearly
As discussed above, the extra skin deposits from drooping upper eyelids can be severe enough to hinder your vision. The drooping of the eyebrow is another similar concern.
During a surgical eyelift, the surgeon will remove the fat deposits and subtly elevate the upper brow lid. As such, your line of sight will expand.
Since brow muscles are no longer undergoing frequent engagement to raise the upper lid for clear sight, patients have cited increased forehead comfort.
A Rejuvenated Facial Aesthetic
Blepharoplasty enhances the overall appearance and shape of your eyes and leaves a more youthful look.
With this improvement to your overall facial features, you'll be amazed at the boost to your self-esteem.
Additional Read: Enhance Your Facial Features with A Chin Implant
Eliminating Your Droop
When your upper eyelid crease is either lost or narrowed, it makes your eyes appear small or tired. This is caused when too much of the eyelid skin or fatty tissue reaches down to your eyelashes.
Upon undergoing an upper blepharoplasty, there's often a reduction in that excess fat or skin. Therefore, your upper eyelid will present a more sculpted, youthful contour.
What To Expect During Your Eyelid Surgery Recovery
Sutures are generally removed within 5-7 days. Healing time is minimized by careful surgical technique. Slight bruising and swelling will typically resolve in less than 1 week.
Complications with eyelid surgery aren't frequent when performed by a competent plastic surgeon.
Still, you're undergoing surgery and – no matter what – there's always going to be somewhat of a risk for complications. Namely, you can react poorly to drugs or experience an infection.
To recover from or combat any symptoms during the recovery process, follow any regiment offered by your doctor.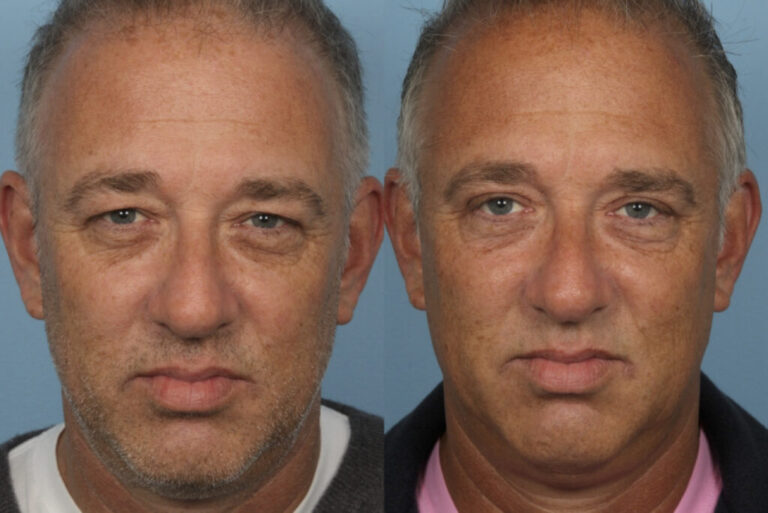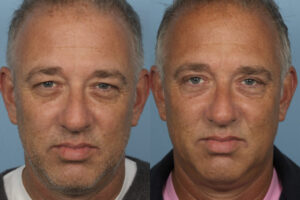 Eyelid Surgery Precautions to Take
Ask for a Helping Hand – Ensure that there's someone who – upon your surgery's completion – can drive you home. Also, make plans with a friend or family member to stay with you during the night of the procedure.
Plan Around Your Blepharoplasty Recovery Time – You'll be recovering for several days after the eyelid lift. So, you must take some leave from work and limit your overall activities throughout the healing process.
Stock Your Home with the Necessary Items – First and foremost, you'll need ice cubes and ice packs in your freezer—these are essential to your recovery.
Furthermore, the recovery process necessitates eye drops or artificial tears—your doctor will help you understand which of these options best suits your needs.
Lastly, ask your doctor about over-the-counter pain medication. Note that you should avoid Advil, Motrin, Naproxen, Aleve, and aspirin since these are blood thinners, and you're more susceptible to bleeding.
Additional Read: Rapid Recovery Tips for Blepharoplasty Surgery that Everyone Should Know
Minor Complications Following Surgery
Experiencing blurred or double vision, temporary swelling around the eyelids, dry/gritty eyes, asymmetrical scarring, small whiteheads, and difficulty blinking/sleeping are all minor complications of this procedure.
There's also the chance of experiencing ectropion, which is a pulling sensation on the lower lids.
The Potential for Dry Eyes
While the symptoms above are a possibility, surgical eyelift patients most commonly experience dry eye symptoms.
Another post-surgery setback is reduced eyelid function since an eyelid lift consists of skin, muscle, and fatty tissue removal. With an altering of blinking ability, you might find it challenging to move tears and blink as you once could.
What Makes Dry Eyes Worse?
Dry eye can be made worse by factors such as bulging eyelids, previous history of the condition, and thyroid problems.
Also, issues such as autoimmune disease, tear duct defects, too much skin removal during surgery, and significant swelling can contribute to dry eye issues.
How Post-Surgery Dry Eyes Are Treated
In the immediate post-surgery, doctors suggest using prescription eye drops, saline solutions, and lubricating ointments. These help with maintaining moistness in the eyes.
Provided your dry eyes persist past a three-week threshold, even with constant doses of topical treatments, you should reach out to your doctor.
Permanent dry eye syndrome, unfortunately, is a risk after blepharoplasty—a setback that's discussed by most surgeons before the procedure. With that in mind, doctors only complete these procedures on patients who are at minimal risk of such a reaction.
Read Here: Post Operative Instruction For Eyelid Surgery
Choose an Experienced, Skilled Cosmetic Surgeon That You Can Trust
If you're interested in eyelid lift surgery, you should seek out a surgeon who is experienced in doing many eyelid surgeries. Your eyes are the focal point of your face and it is important that the surgery is performed properly in order to protect your eyes and maintain your natural appearance. If you are looking for one of the best eyelid surgeons in Chicago, consider Dr. Douglas M. Sidle. He is highly experienced, impressively qualified, and takes a patient-first approach to his treatments.
You deserve the best for your surgical eyelid lifts, and Dr. Sidle will provide the sure-handed support and guidance you deserve.
Do you want to learn more about this treatment? Then contact us today to discuss how blepharoplasty can improve your appearance.